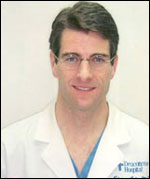 Perhaps the greatest compliment and best introduction to Blaine Lehr, M.D. is a statement from O'Tar Norwood, M.D., one of the true pioneers in the field of hair transplantation (creator of the Norwood Baldness Scale, author of 1st two textbooks of hair transplantation, cofounder of the International Society of Hair Restoration Surgery, founder of the Hair Transplant FORUM International, and recipient of two of the highest awards---Golden Follicle Award and Manfred Lucus Award). Before he retired, Dr. Norwood stated, "Over the last 30 years, I have been associated with, worked with, and in fact trained many of the other leading hair transplant surgeons in the world. As the demand for my services increased , I knew I needed an associate, and I knew because of my reputation, I could choose anyone. I did not want to sell out to one of the large nationwide franchises. You have no control over their integrity or the quality of their work. I first began working with Blaine in 1993. I recognized his natural ability immediately. Just as importantly, I found him to be honest in all circumstances. He is a hair transplant surgeon of the highest quality".
Dr. Lehr now runs the Norwood and Lehr Hair Transplant Clinic in Oklahoma City where they utilize 100% microscopically dissected follicular units. At the N & L Clinic the patient is never sold to or pressured. Dr. Lehr stresses thorough education and understanding for his patients. He is completely up front about the positives and negatives of hair transplants in general, and an individual patients characteristics (degree of balding, caliber of hair, goals, and finances) in particular. Dr. Lehr believes in keeping prices very reasonable so that almost all interested patients can afford the opportunity to look better.
Dr. Lehr attended the University of Oklahoma Medical School where he received numerous awards including the Tom Lowry Award for ranking 1st in the class after the 1st year and the Mark R. Everett Award for the most promise in a 2nd year student. He was initiated into the Alpha Omega Alpha National Medical Honor Society during medical school. In addition to performing hair transplants, he is a practicing board certified dermatologist with additional expertise in dermatologic surgery and Mohs micrographic surgery for skin cancer.