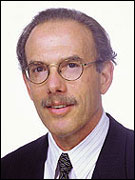 Dr. Cohen is recognized as an expert in the field of hair replacement surgery. He has developed his own innovative techniques utilizing follicular unit grafts that are now being used by hair transplant surgeons throughout the United States.
Dr. Cohen lectures on hair transplantation and hair loss at the Yale University School of Medicine where he is associate clinical professor of dermatology. Dr. Cohen has been a frequent speaker at both national and international conferences on hair restoration surgery. Most recently, he was an invited speaker and faculty member at the World Hair Association live surgery meeting as well as a featured speaker at the annual meeting of the International Society of Hair Restoration Surgery.
Recently Dr. Cohen was recognized as one of The Top Hair Transplant Surgeons in North America by Town and Country Magazine. The New York Times has profiled Dr. Cohen and his work in major articles. Connecticut Magazine has reported on Dr. Cohen's surgery. He has been featured in Men's Health and Self Magazine as well as The Connecticut Post. Dr. Cohen has published articles in the Journal of Dermatologic Surgery, the Journal of Geriatric Dermatology, and the Hair Transplant Forum International.
Dr. Cohen was an undergraduate at Tufts University. He received his M.D. cum laude from the Downstate Medical Center in 1967 and was elected to the AOA Honor Medical Society. After his internship at Montefiore Hospital in New York City, he was commissioned as a captain in the U.S. Army Medical Corps. His residency training in dermatology was at the Yale University School of Medicine where he was appointed chief resident of dermatology in 1972. Dr. Cohen has been in private practice since 1973 in Fairfield, Connecticut where he began specializing in hair loss and its treatment.