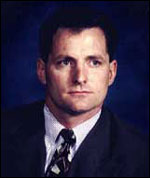 Paul J. McAndrews, M.D. is a Clinical Instructor of Dermatology at the USC School of Medicine, teaching the residents the latest advances in hair loss and transplantations. Dr. McAndrews also lectures extensively to other physicians throughout the United States on the etiology and treatment of hair loss. Dr. McAndrews has a private practice located in both Pasadena and Beverly Hills, CA. Unlike most hair transplant surgeons, Dr. McAndrews was formally trained in a residency on hair transplants and the pathophysiology of hair loss.
Dr. McAndrews formally learned the art of hair restorations during his dermatology residency at the distinguished USC/LAC Medical Center. He was honored with the distinction of Chief Resident. He also received years of professional training under the mentorship of Dr. M.B. Corbett, who is known as one of the early "pioneers in the field of hair restorations". In 1996, Dr. Corbett asked Dr. McAndrews to join him as a partner in his practice. Dr. McAndrews has since taken over Dr. Corbett's practice that was limited to the field of hair restorations.
Dr. McAndrews does not believe automating the hair transplant process is in the best interest of the patients. He believes, as the surgeon, he should be involved in every step of the entire hair transplant process. Therefore, he insists on doing only one patient a day so that he can devote his undivided attention to his patient from start to finish. When a hair transplant clinic is performing 3-4 hair transplants at the same time, unfortunately the doctor is involved in very little of the procedure and much of the hair transplant is being performed by a technician unsupervised. He fails to see the quality in this approach.
The major limitation to hair transplants is there is a limited amount of good genetic hair that can be donated to the balding area. Dr. McAndrews believes in doing everything possible, even though it is less efficient and more demanding on him and his staff, to ensure the highest percent of grafts survive and grow.
Dr. McAndrews and his hair transplantation style have been featured on ABC News, CBS News, Fox News, KCOP News, Good Day LA and other News Channels.
Dr. McAndrews also served in the United States Air Force as a Flight Surgeon. He received his medical training at USC School of Medicine, where he achieved "Dean's Scholar" every year and was elected to Alpha Omega Alpha (National Medical Honor Society for the top 15% medical students in the nation). He scored in the top 4 percentile in the nation on the National Board Medical Exam. He performed his undergraduate training at Cal Poly State U., San Luis Obispo, where he graduated Magna Cum Lauda.
Dr. McAndrews is a member of the International Society of Hair Restoration Surgery, the American Society of Hair Restoration Surgery, the American Academy of Dermatology, American Academy of Cosmetic Surgery, the American Medical Association, and the Los Angeles MetroDerm Society.