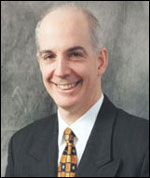 Robert M. Bernstein, MD is Associate Clinical Professor of Dermatology at the College of Physicians and Surgeons of Columbia University and Associate Attending at the New York Presbyterian Hospital. Dr. Bernstein is the Medical Director of the New Hair Institute. His private practice in Manhattan and Fort Lee, NJ is devoted solely to hair restoration.
Dr. Bernstein is the recipient of the "Platinum Follicle Award" for "Outstanding Achievement" in scientific and clinical research in hair restoration. Presenting the award, the President of the International Society of Hair Restoration Surgery stated: "Dr. Bernstein has contributed to the field of hair transplantation in dramatic and substantial ways, revolutionizing the advancement of Follicular Unit Hair Transplantation. His published articles have become 'Bibles' for this methodology. Dr. Bernstein's contributions extend beyond the application of Follicular Unit Transplantation, such as studies in examining the power of sorting grafts for density, yield by method of graft production, local anesthetic use, and suture materials. These studies have added to the specialty's depth and breadth of knowledge applicable to traditional mini-micrografting techniques as well as Follicular Unit Transplantation."
Dr. Bernstein received his Dermatologic training at the Albert Einstein College of Medicine in New York, where he served as Chief Resident. He graduated Cum Laude from Tulane University achieving the status of Tulane Scholar. He received his Doctor of Medicine degree at the University of Medicine and Dentistry of New Jersey and was the recipient of the Dr. Jacob Bleiberg Award for Excellence in Dermatology.
Dr. Bernstein is Board Certified in Dermatology and is a Fellow of the American Academy of Dermatology. Dr. Bernstein is honored to be among the first 50 physicians worldwide to be certified by the American Board of Hair Restoration Surgery. Dr. Bernstein serves on the editorial board of Dermatologic Surgery. He is a member of the American Academy of Aesthetic and Restorative Surgery, American Society for Dermatologic Surgery, International Society of Hair Restoration Surgery, American Academy of Cosmetic Surgery, and the American Hair Loss Council.
Dr. Bernstein has served as Chairman of the Quality Assurance Committee of the Department of Dermatology at Englewood Hospital and is the Medical Director assuring quality control at the AAAHC Accredited NHI ambulatory health care facilities, the first of its kind for hair restoration surgery in the United States. He has also been instrumental in developing NHI's extensive website www.newhair.com.
Dr. Bernstein's contributions to the field of hair transplantation and devotion to patient care have earned him the honor of "Surgeon of the Month" in Hair Transplant Forum International and New York Magazine's "The Best Doctors in New York" for 2000 and 2001. Dr. Bernstein has appeared on ABC, CBS, and Fox 5 News and has been featured on Good Morning America for his pioneering work in hair transplantation and on The Discovery Channel for his expertise in corrective procedures.
Dr. Bernstein is the most widely published author on the subject of Follicular Unit Transplantation with over 30 articles, editorial reviews, books and textbook chapters. His landmark scientific papers are considered to be seminal works in the field of hair restoration surgery. Dr. Bernstein lectures both nationally and internationally on the treatment of hair loss. He is active in clinical research and teaching and is devoted to providing the best possible care for his patients.